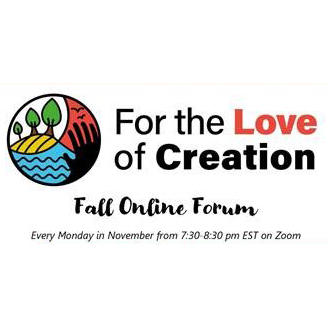 November 2nd

For the Love of Creation

For the Love of Creation is hosting a Fall Forum every Monday evening this November on Zoom. Join us to learn more about our collective work for climate justice, engage with guest speakers, and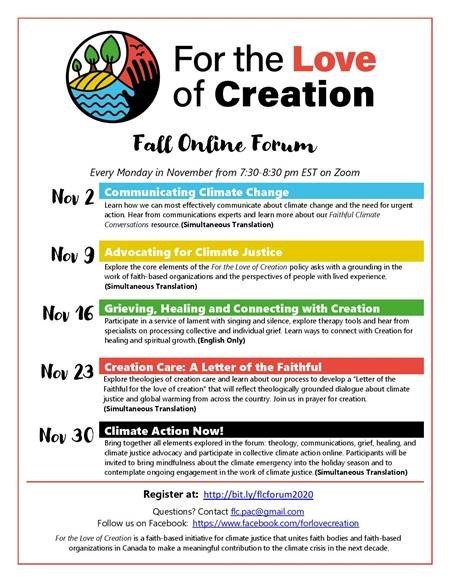 take action for climate justice together online. Simultaneous translation will be available.
Join us for one or more of the following sessions:
Nov 2nd: Communicating Climate Change

Nov 9th: Advocating for Climate Justice
Nov 16th: Grieving, Healing, and Connecting with Creation (English Only)
Nov 23rd: Creation Care: A Letter of the Faithful
Nov 30th: Climate Action Now!
To Register: http://bit.ly/flcforum2020
Questions? Email flc.pac@gmail.com

For the Love of Creation brings together over 30 churches and faith-based organizations in Canada, including KAIROS, the Anglican Church of Canada, the Canadian Yearly Meeting of the Religious Society of Friends (Quakers), the Canadian Religious Conference (Catholic religious orders), Citizens for Public Justice, Development and Peace – Caritas Canada, the Evangelical Lutheran Church in Canada, the Mennonite Central Committee, the Presbyterian Church in Canada, the Primate's World Relief and Development Fund, and the United Church of Canada.