February 28th

Verner Friesen Obituary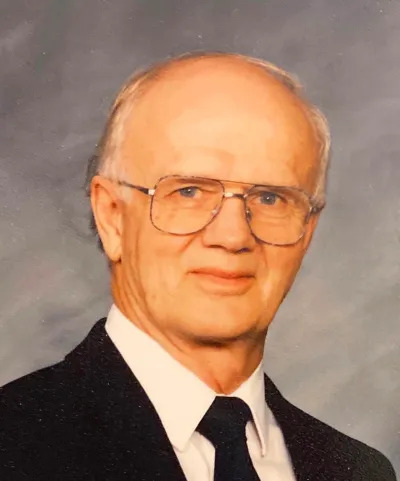 Verner Friesen, 94, of Saskatoon, was taken to his heavenly home on Saturday February 18, 2023.
He was born February 18, 1929 at Carlton, Sk. to Albert and Luise (Funk) Friesen. He was the youngest of nine siblings and grew up on the family farm. His early family life was deeply affected by his mother's debilitating arthritis. She passed away when he was 14 years old.
He attended the Riverlot country school for his early education and then attended R.J.C. for grades 11 and 12, graduating in 1946. He enjoyed hockey and being able to play with some of RJC's "greats".
He knew in his heart he would never be a farmer so attended Normal School for several weeks in summer, and in fall began teaching. During this time he also took classes at U of S, and eventually obtained his B. Ed. Degree.
However, during all this time he felt an inner calling to the ministry. To fulfill this commitment he attended CMBC in Winnipeg for 3 years. However, when he graduated he had something more than a degree. He had won the heart of a fellow student, and a promise of marriage. She was a blue-eyed blonde from Alberta. Verner and Anne (Neufeld) were married on October 8, 1955, and were thankful to be able to spend 65 years together.
After 10 years of marriage, Verner accepted the call from Hague Mennonite Church. Here we became a family of four – Randy in July of 1962, and Laurie in October 1964. We made a three year study trip as a family to Seminary in Elkhart, Indiana, after which we came home to Saskatchewan.
Verner accepted the call to Nutana Park Mennonite Church in 1970, and it led to 12 rewarding years. Then it was on to other churches in Saskatchewan. After retirement, Verner still assisted several congregations as interim pastor. He was a faithful supporter of the General Conference. Many of our holidays included attending conferences. He had a keen interest in church and Mennonite history. It was important to him that we preserve the stories of our forefathers and foremothers and that we should pass on these stories to the next generation. He also supported the Saskatchewan Mennonite Historian, and served on various committees.
Although Verner often regretted that he had not been able to spend more time with the family, we have happy memories of good times. We enjoyed camping trips to see family in B.C., Alberta, and California, and in later years he enjoyed spending time with his grandchildren.
Cherishing his memory are his loving wife Anne, son Randy Friesen, daughter Laurie Wiens, and her family Matthew Wiens (Craig Friesen) and their daughter Frances, Meghan Wiens (Isaac Winterfeld), Ryan Wiens, and Amy Wiens. He is also survived by sister -in- laws Lou Friesen, Edith Friesen, Hertha Friesen, Nita Baturin, Wanda Neufeld, and numerous nieces and nephews.
He was predeceased by his parents Albert and Luise (Funk) Friesen, Brothers – Albert, Helmut, Benno, Wilfred, Walter and Ervin Friesen, by Sister Ella in childhood, and sister Johanna (Friesen) Klassen, by son-in-law Rod Wiens, and infant grandson Nehemiah Kayne Wiens, and other extended family.
He touched many people throughout his life, and will be remembered for his kind, gentle ways and his love for others. We as his family, thank him for the time he gave us, for the lessons he taught and the faith that he shared.
We will miss you. Aufwiedersehn.