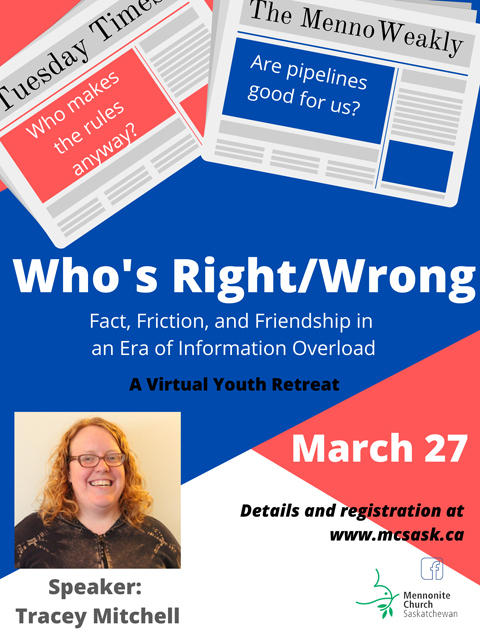 March 27th

MC Sask Virtual Youth Retreat

Dear Youth, Parents, Youth Sponsors, and Pastors;

This letter comes to you with much joy and excitement, introducing the first ever MC Sask Virtual Youth Retreat, to be held via Gather on March 27.

We are taking all the things we have loved about in-person retreats in the past (worship, games, speakers, hanging out, and maybe even coffee house!), and moving it all to an online platform where we can enjoy being together again!

The theme for the retreat is 'Who's Right/Wrong: Fact, Friction, and Friendship', with guest speaker Tracey Mitchell. Tracey is a facilitator of "creative and courageous conversations" and will spend two short sessions helping us learn how to navigate places where there are not easy answers, and where we disagree with people we care about. We are excited to have Tracey speak into this very timely topic, and also to have her leave us with tools and resources to help continue the conversation after the retreat as well.

A few additional details to take note of:
Please make special note of the 'Online Code of Conduct,' which is part of registration, and make sure to go over it with your youth, as a group or individually, ahead of time.
If you have youth in gr. 6-8 who would be able to interact well online and engage with the topic, please let me know, and we can talk about extending the grade minimum ( 8).
Because our platform allows us to have small group discussion and hangout times, sponsors will still have an important role to play during the retreat, as well as helping relay important information ahead of time. Let me know ASAP if your youth will need to be paired with another group.
We hope this retreat will be just the first step of once again bringing our youth together and reminding all of us of the larger church family we are part of. Questions/information/registration, visit www.mcsask.ca/youth-ministry, or contact Kirsten (information below).
Take Care,
Kirsten Hamm-Epp, Regional Church Minister, MC Sask
MC Sask Youth Retreat, Online Code of Conduct
When you register for the MC Sask Youth Retreat, you agree to abide by the following guidelines:
Join in a quiet space, using headphones, if possible
Fully participate with both video and audio as much as internet capability allows
Do not use green screens or other background apps
Attend all sessions and activity times
Be yourself; but remember, your behaviour should show respect to everyone around you
No improper use of technology, including use of other devices, websites, or apps during the retreat
Offer the grace and love of Jesus to one another as best as we can in an online setting
Tentative Schedule
Saturday, March 27
1:30pm Get online
2:00pm Introductions & Worship
3:00pm Talking with Tracey, Part A
4:30pm Games/Free Time
5:00pm Supper Break (at home)
6:00pm Worship
7:00pm Talking with Tracey, Part B
8:30pm Games/Free Time
9:30pm Coffeehouse
11:00pm 'Official' Closing
11:59pm The End.
Thanks for Coming!