Virtual Youth Retreat Exceeds Expectations!

On Saturday, March 27, youth and youth leaders of MC Sask met online for the first ever MC Sask Youth Retreat, and it was a "surprisingly good time!" With Gather (the event's online platform) being new to many, no one knew quite what to expect coming into the day, and between the unique, interactive virtual map, and the goodness that comes from being together after too long apart, the retreat was able to meet and exceed expectations. Some highlights included exploring the map to find hidden pictures of Shekinah Retreat Centre (where in-persons retreats have traditionally taken place), the Easter Egg Scavenger hunt (complete with a 1kg candy prize!), and some hilarious rounds of Telestrations where guessing what someone else drew was easy compared to having to draw it yourself! (How would you draw, "A bird in the hand is worth two in the bush"???)
The day also included two sessions with retreat speaker Tracey Mitchell; the first looking at ways of building healthy confidence, and the second exploring different ways of dealing with conflict in conversation. Mitchell's genuine presence and invitation to the youth to draw on their own thoughts and experiences led to impactful and insightful conversations within small groups, and we're excited to be able to continue these conversations moving forward with a follow-up resource that will be available later in the Spring.
Thank you to all those who participated and made it possible for youth to attend. The day ended with many saying it was "more fun than I expected" and "can we do this again?" – great things to hear after a day spent online together! More online events are being discussed, watch for more details coming soon.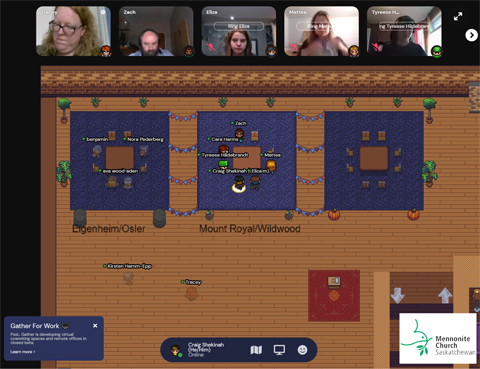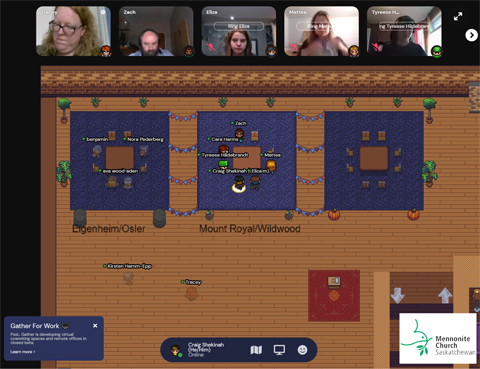 Photos: Craig Friesen
Youth Ministry
The youth ministry programming of MC Sask has two primary goals:
Helping youth strengthen their faith and learn about the God who created and loves them.
Providing opportunities for youth to spend time together in a safe space.
Saskatchewan Mennonite Youth Organization (SMYO)
Youth programming, led by youth! Saskatchewan Mennonite Youth Organization (SMYO) is an important part of Mennonite Church Saskatchewan (MC Sask). SMYO includes any youth (gr. 6-12) who are part of an MC Sask congregation, school, or youth group.

The purpose of SMYO is to bring together youth from across the province for fellowship, a feeling of unity, and spiritual growth. Along with monthly Mega Menno events, there are two SMYO retreats each year, one for Jr. High and one for Sr. High. The goal of these events is to foster feelings of identity and unity, invite youth to grow in their faith and relationship with Jesus Christ, and encourage them to follow God in all areas of their lives. SMYO receives oversight from Kirsten Hamm-Epp, MC Sask Regional Church Minister, and most importantly, from the SMYO Youth Committee.

This group of youth in grades 10-12 provides input regarding programming, helps run retreats, offers worship services at MC Sask congregations, and is the representative voice of Mennonite youth in Saskatchewan.
SMYO Coffee Fundraiser
Through Level Ground Trading Co., funds are raised each year to help youth attend the two SMYO retreats, for large assemblies and trips, and scholarships. To date over $6,000 has been raised, and we are very grateful for this support!
Orders are welcome on an individual or congregational/corporate level.
We collect orders until we can complete a full order (usually in 1 or 2 weeks), and our order takes approximately 5 business days to arrive
Large orders may be shipped directly to you - contact the office for details. No stock is kept on hand.
Online ordering available here: Online Coffee orders
Contact the MC Sask office (mcsask@mcsask.ca or 306-249-4844 ext 3) with any questions.
The youth ministry programs of MC Sask are accountable to the Pastoral Leadership Commission (PLC), and any questions or concerns should be directed to PLC Chair Curtis Wiens, or MC Sask Moderator Terry Stefaniuk. Please contact the office for their information.