November 15th - November 19th

21st Century Preaching course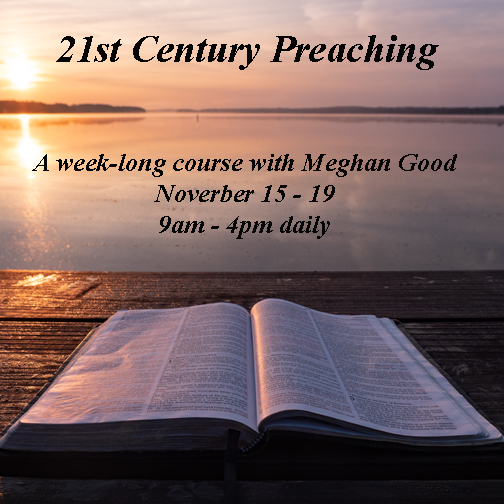 Effective preaching emerges at the intersection of solid biblical exegesis and keen insight into the "here and now" of contemporary context. This course will examine methods for doing exegesis for preaching that are realistic in the busyness of ministry and keep our own hearing of God's words fresh and living. We will explore what it looks like to communicate effectively with diverse and often distracted twenty-century audiences and consider creative techniques for crafting sermons that engage modern people deeply in the ongoing story of God. The course includes opportunities to receive feedback on sermon structure and delivery.
For those who wish to take this course for seminary credit, please register with Canadian Mennonite University here. Tuition is around $800, plus some student fees. For those applying for credit and are currently active in church ministry, if you apply to Company of 1000, you will receive 50% of your tuition back once you have completed all assignments. Contact me for more information.
For those who wish to audit this course, registration below. The cost is $300.
This is an intensive course, with classes running from 9am-12pm, and then 1pm-4pm (roughly) each day. If we have 15 in person participants or less, we will host the course here at the MCC Building in Saskatoon. If we have more than 15 in person participants, we will host the course at Mount Royal Mennonite Church. We will have a Zoom option. In person participants will need to be fully vaccinated. Please bring a bag lunch if attending in person.
If you have any questions contact Ryan at minister@mcsask.ca