January 27th - January 29th

2023 SMYO Youth retreat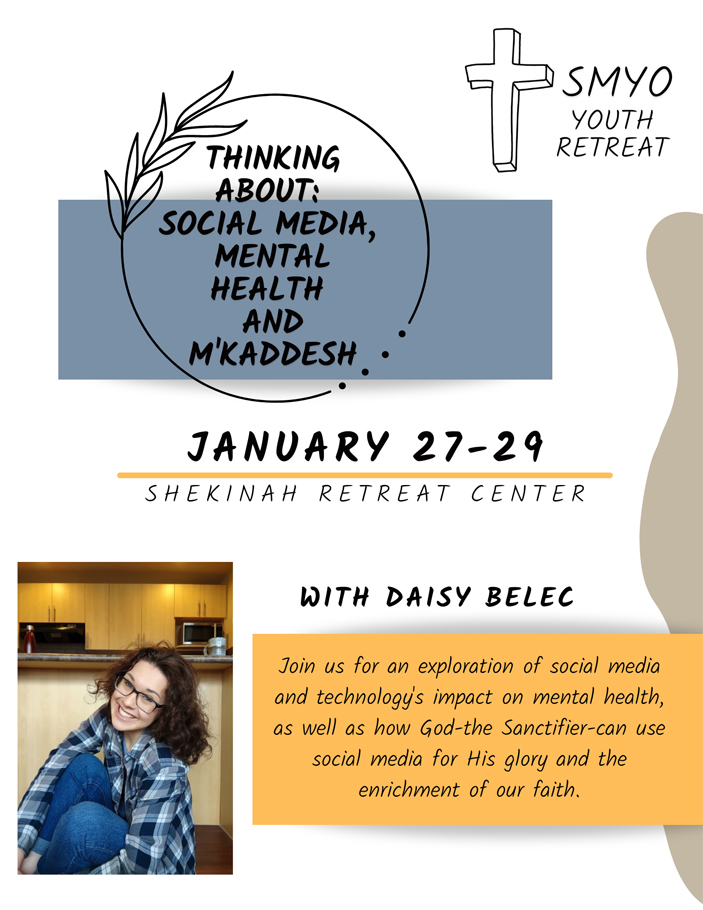 This year's retreat will take place January 27-29, 2023, at Shekinah Retreat Centre, and is open to youth in grades 6-12, and their sponsors. While we were certainly happy to try to things and new places last year, we're looking forward to the cozy familiarity of Shekinah once more.
Our speaker for the retreat will be Daisy Belec who is from the small town of Sydenham, Ontario and is passionate about God, people, fudgy brownies and skydiving. She is in her final year at Canadian Mennonite University, majoring in Communications and Media Studies and double-minoring in Peace and Conflict Transformational Studies, and Biblical and Theological Studies. Our theme for the weekend is Thinking About: Media, Mental Health and M'Kaddesh where we will explore social media/technology's impact on mental health, as well as how God—the Sanctifier—can use social media for His glory and the enrichment of our faith
Along with session times, the retreat will also feature worship, games of all kinds, a coffeehouse, and some down time to chill and hang out after a week of exams!
Because sponsors are also a big part of what makes this weekend possible, every church or group sending youth is asked to send an accompanying sponsor. However, if your church has difficulty finding a sponsor for your youth please contact Zach Dueck at the Youth Ministry Office. We do not want this to become restrictive; all are welcome, and this includes non- Mennonite friends your youth might have as well!
Cost:
Youth: $150
Sponsors: $150
Late: $160